Power and Performance.
Tsubaki Workhorse™ Series Dual Strand Elevator Chains are designed with a unique combination of premium alloy and carbon components to allow for reliable and predicable performance in your toughest applications.
Upgrades Available: Corrosion Resistance, Titan XL, SJ3 Compatible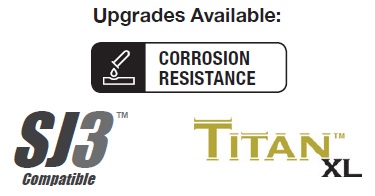 >
WORKHORSE™ DUAL STRAND ELEVATOR CHAINS
Used in higher load elevator applications.
Commonly utilized in gravity discharge systems.
Offered in both Straight and Offset sidebar configurations.
9-12 inch pitch size is typical, but other sizes available.
Smaller pitch sizes allow for faster chain speeds.
Typical operating speeds are in the 100-200 FPM range.
Rollers help prolong sprocket tooth life.
TYPICAL APPLICATIONS
Bulk Material Handling
COMMON INDUSTRIES
INDUSTRIAL MINERALS
MINING
CEMENT
GRAIN
GENERAL MANUFACTURING
4004

N/A

9.000 in

N/A

Straight

N/A

2.63 in

N/A

3.00 in

N/A

1.00 in

N/A

2.50 in

N/A

0.50 in

N/A

2.59 in

N/A

3.03 in

N/A

5.63 in

N/A

121000 lb

N/A

12700 lb

4009

N/A

9.000 in

N/A

Straight

N/A

2.19 in

N/A

3.00 in

N/A

0.88 in

N/A

2.50 in

N/A

0.38 in

N/A

2.06 in

N/A

2.44 in

N/A

4.50 in

N/A

143000 lb

N/A

9000 lb

4035

N/A

9.000 in

N/A

Straight

N/A

3.16 in

N/A

3.50 in

N/A

1.13 in

N/A

3.00 in

N/A

0.50 in

N/A

2.86 in

N/A

3.30 in

N/A

6.16 in

N/A

226000 lb

N/A

19000 lb

4037

N/A

9.000 in

N/A

Straight

N/A

3.25 in

N/A

4.50 in

N/A

1.50 in

N/A

4.00 in

N/A

0.63 in

N/A

3.28 in

N/A

3.72 in

N/A

7.00 in

N/A

340000 lb

N/A

23600 lb

4065

N/A

9.000 in

N/A

Straight

N/A

3.06 in

N/A

4.25 in

N/A

1.25 in

N/A

3.50 in

N/A

0.63 in

N/A

3.06 in

N/A

3.50 in

N/A

6.56 in

N/A

226000 lb

N/A

18900 lb

4251

N/A

12.000 in

N/A

Offset

N/A

1.94 in

N/A

1.75 in

N/A

0.88 in

N/A

2.00 in

N/A

0.50 in

N/A

2.25 in

N/A

2.56 in

N/A

4.81 in

N/A

61200 lb

N/A

8750 lb

4265

N/A

12.000 in

N/A

Straight

N/A

2.25 in

N/A

3.00 in

N/A

0.88 in

N/A

2.50 in

N/A

0.38 in

N/A

2.16 in

N/A

2.47 in

N/A

4.62 in

N/A

75500 lb

N/A

9200 lb