Tsubaki's new BS-F Series backstops are designed for simple, drop-in installation to all major competitive external, low-speed backstop products. These backstops use a unique labyrinth seal design for maximum life with minimal maintenance. With Tsubaki's innovative design features, our backstops ensure efficient and dependable operation in the harshest environments.
TYPICAL APPLICATIONS
Mining (Coal, Copper, Potash) - used in inclined conveyors and bucket elevators for transporting raw materials.
Power Generating Plants - used in inclined conveyors to transfer coal from the stockpile to the boiler rooms.
Cement Plants - used in bucket elevators and inclined conveyors for moving limestone and clay to crushers and silos.
COMMON INDUSTRIES
MINING
POWER GENERATING PLANTS
CEMENT
PORTS
INNOVATIVE FEATURES:
NON-ROLLOVER CAM
Provides higher torque ratings than the leading competitors due to the larger profile and greater contact area.
Improves performance and prevents costly and potentially dangerous rollover.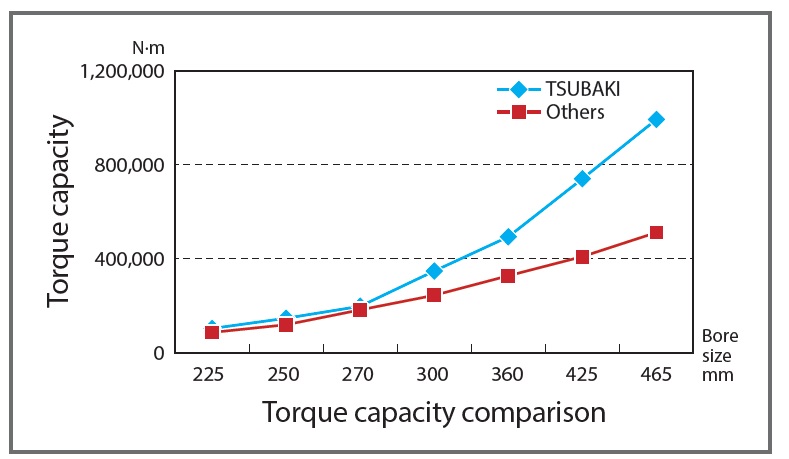 >
SPECIAL LABYRINTH SEAL
New seal design prevents the ingress of dust and other contaminants typically found in mining and cement plants, which extends the life of the lubricant.
Minimizes heat generation and provides trouble-free service with minimal scheduled maintenance.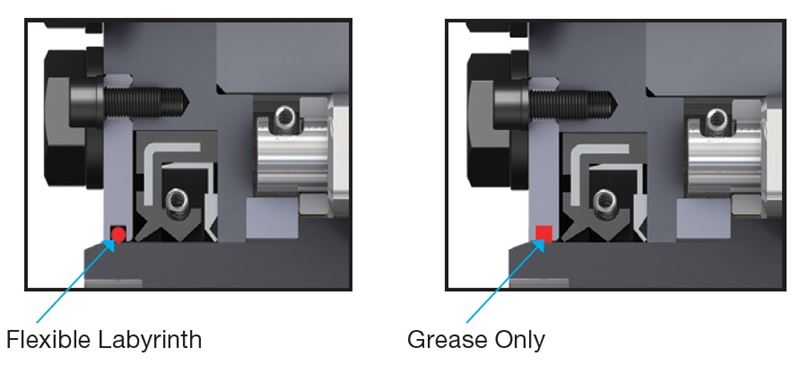 >
Superior Performance in the Harshest Environments
GREASE LUBRICATION
Offers synthetic grease lubrication in a sealed backstop design.
Breather element is eliminated.
No need to monitor oil levels, refill the backstop or worry about moisture in the lubricant.
Provides trouble-free performance with minimized maintenance requirements.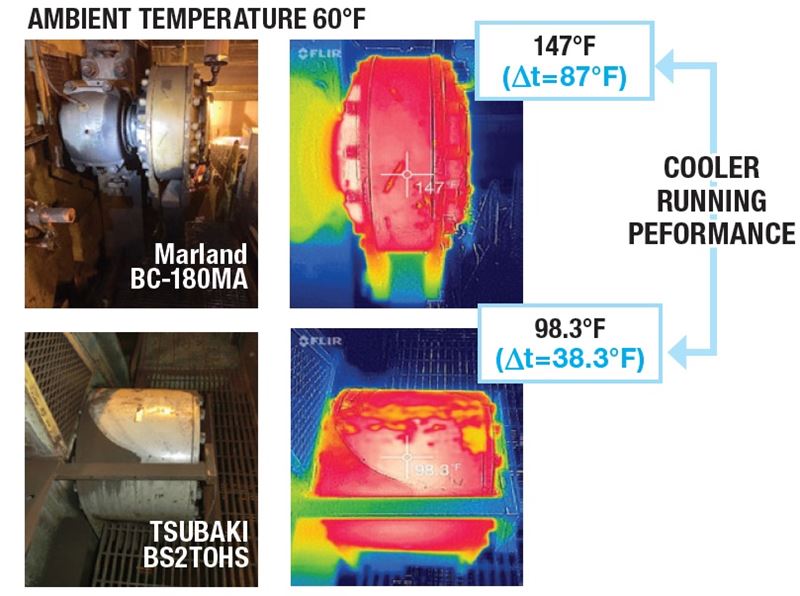 >
DROP IN DESIGN
Tsubaki offers the narrowest backstop with an I-beam torque arm.
Quick and easy field replacement. Drop in compatible with most competitive products.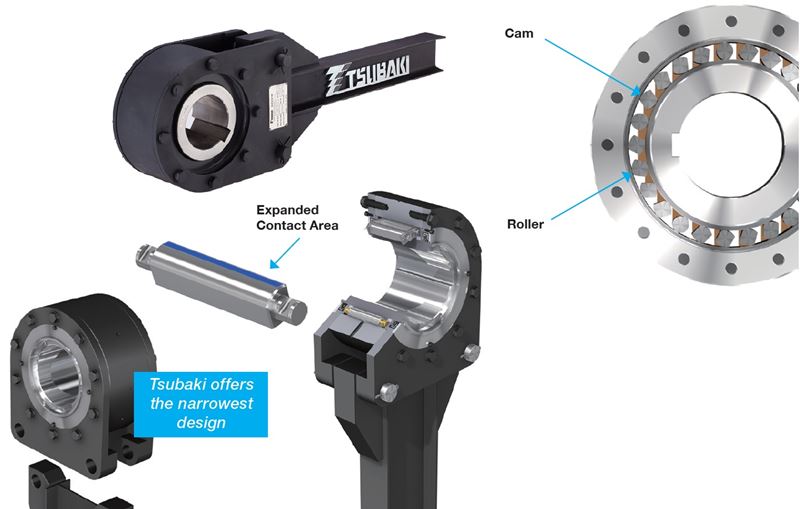 >
3 STEP
EASY CONNECTION
Step 1:
Insert I-beam torque arm into clutch
Step 2:
Insert lock pins through flange plate and secure torque arm
Step 3:
Insert retaining pins into lock pins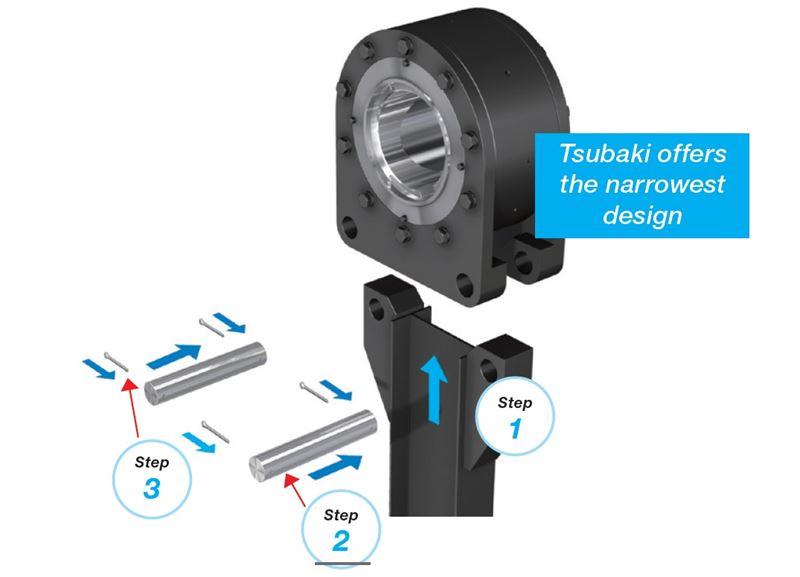 >
BS85F

N/A

3.350 in

85.00 mm

N/A

2.360 in

60.00 mm

N/A

4980 lb·ft

6760 N·m

N/A

300 rpm

N/A

6.000 lb·ft

8.00 N·m

BS95F

N/A

3.740 in

95.00 mm

N/A

2.750 in

70.00 mm

N/A

6590 lb·ft

8940 N·m

N/A

300 rpm

N/A

7.370 lb·ft

10.00 N·m

BS115F

N/A

4.530 in

115.00 mm

N/A

3.150 in

80.00 mm

N/A

12000 lb·ft

16300 N·m

N/A

300 rpm

N/A

11.050 lb·ft

15.00 N·m

BS140F

N/A

5.510 in

140.00 mm

N/A

3.540 in

90.00 mm

N/A

18000 lb·ft

24400 N·m

N/A

300 rpm

N/A

14.740 lb·ft

20.00 N·m

BS165F

N/A

6.500 in

165.00 mm

N/A

3.940 in

100.00 mm

N/A

32500 lb·ft

44100 N·m

N/A

300 rpm

N/A

25.060 lb·ft

34.00 N·m

BS200F

N/A

7.870 in

200.00 mm

N/A

3.940 in

100.00 mm

N/A

45500 lb·ft

61700 N·m

N/A

180 rpm

N/A

32.430 lb·ft

44.00 N·m

BS225F

N/A

8.860 in

225.00 mm

N/A

5.900 in

150.00 mm

N/A

75200 lb·ft

102000 N·m

N/A

150 rpm

N/A

54.540 lb·ft

74.00 N·m

BS250F

N/A

9.840 in

250.00 mm

N/A

6.880 in

175.00 mm

N/A

108000 lb·ft

147000 N·m

N/A

135 rpm

N/A

68.540 lb·ft

93.00 N·m

BS270F

N/A

10.630 in

270.00 mm

N/A

7.870 in

200.00 mm

N/A

141000 lb·ft

192000 N·m

N/A

125 rpm

N/A

72.220 lb·ft

98.00 N·m

BS300F

N/A

11.810 in

300.00 mm

N/A

9.050 in

230.00 mm

N/A

254000 lb·ft

345000 N·m

N/A

115 rpm

N/A

79.600 lb·ft

108.00 N·m

BS360F

N/A

14.170 in

360.00 mm

N/A

9.840 in

250.00 mm

N/A

360000 lb·ft

489000 N·m

N/A

100 rpm

N/A

115.710 lb·ft

157.00 N·m

BS425F

N/A

16.730 in

425.00 mm

N/A

12.790 in

325.00 mm

N/A

542000 lb·ft

735000 N·m

N/A

85 rpm

N/A

159.190 lb·ft

216.00 N·m

BS465F

N/A

18.310 in

465.00 mm

N/A

13.780 in

350.00 mm

N/A

722000 lb·ft

980000 N·m

N/A

80 rpm

N/A

180.560 lb·ft

245.00 N·m